What's New in R2021x
On Nov 17, 2020, Dassault Systèmes announced the general availability of 3DEXPERIENCE Release 2021x. All of Dassault Systèmes' cloud customers were seamlessly upgraded to R2021x's latest Functional Delivery within a few hours of release availability, and over the entire scope of 3DEXPERIENCE – the largest cloud offering in product innovation & experience, and beyond.
R2021x introduces the new 3DEXPERIENCE WORKS portfolio, bringing cloud benefits to mid-market and SOLIDWORKS customers across design and engineering, simulation, manufacturing and production, and governance. The new 3DEXPERIENCE SOLIDWORKS Standard / Professional / Premium roles offer all the functionalities of SOLIDWORKS Desktop with the connection to the platform to leverage all its capabilities.
My3DEXPERIENCE, a new experience available in the platform and on 3ds.com, makes it easy to discover, and in time buy, the entire Dassault Systèmes offering as users' needs grow and evolve. Already, select key roles can be purchased online. In addition, users can connect data and people, and stay informed with various content feeds from internal and external sources, based on interests.
New roles expand individuals' contribution as part of each industry process, to best bring industry-specific value to customers.
The release also features powerful functional enhancements, bringing an unparalleled combination of advanced technologies, roles, and industry experiences to customers:
Browser-based 3D capabilities across various complementary value streams and for specialized domains, i.e. not just in 3D design with generative & algorithmic 3D modeling for construction, or with 3D sheet metal, but also in 3D marketing with interactive product showcases creation.
Unique paradigms to create in 3D e.g. Flow Driven Generative Design to automatically generate optimal duct shapes, and Generative Functional Tolerancing to automate the creation of accurate geometric tolerancing schema.
Bringing the power of the 3DEXPERIENCE platform to more users by connecting them to the 3DEXPERIENCE model-based semantics e.g. Cadence® Allegro® and SolidEdge® users, and enhancements for AutoCAD® and Altium® users.
Breakthroughs in intelligence for business innovation. For example, automated and guided component classification, based on 3D shape & semantic analysis, and on AI / machine learning. Also, PLM Analytics tailored to project portfolio & product engineering managers.
Enhancements to end-to-end Additive Manufacturing from function-driven and specialized design (e.g. now with design of previously unachievable complex lattice structures), to optimized process (e.g. now with multiple concurrent lasers), to realistic manufacturing, and to bringing the model from Virtual to Real with the 3DEXPERIENCE Marketplace (e.g. now within the designer environment).
Learn more about the latest release enhancements: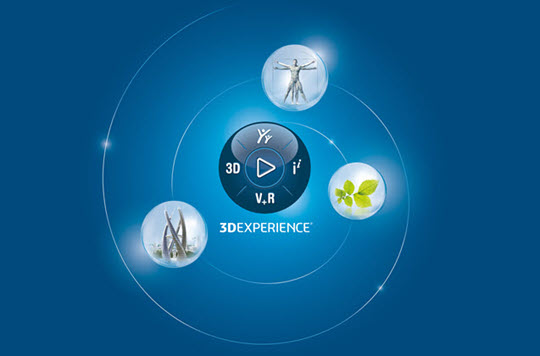 3DEXPERIENCE Works

3D Creator

Innovate, collaborate, and create great designs anywhere and anytime. 3D Creator combines ease of use with innovative design methodologies and cloud collaboration from inside a web browser.

Discover the role