Don't Drop That!
Fulfilling Consumer
Expectations of
Robust Mobile Devices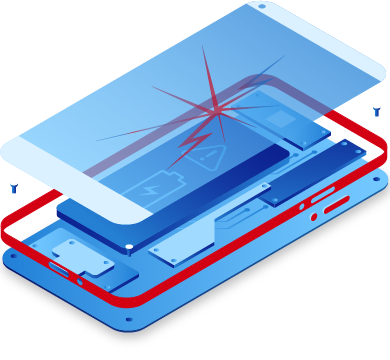 84 million
Americans have had
smartphone damage
in the past year 1
45% of people
want a waterproof device
with casing that protects
against water damage 2
30% of users
break their phones during
a 12 month period 3
Virtual prototyping helps ensure that new mobile device designs get to market faster.
Develop durable mobile phones able to withstand everyday life and activities.
Check out how simulation driven design can help to:
Identify potential field failure
Avoid warranty issues and negative impact on brand image
1
Assembly Stress
Why do I need this?
Stresses on a device can occur as early as the
manufacturing stage and, if not accounted
for, can result in early failures from drop.
2
Drop Test
Why do I need this?
Devices are designed to be slim and
lightweight but dropping the device can
result in damage that can't be fixed.
3
Three-Point Bending
Why do I need this?
Devices can sustain damage from bending,
especially when placed in a pocket or
stepped on.
4
Water Resistance
Why do I need this?
Water damage can easily occur in devices,
especially if the sealing capacity fails.