WHO ARE THE ROBOT WHISPERERS?
Just two ordinary guys with an extraordinary passion for robotics... and for using the world's most advanced 3D robot simulation and programming solutions. Watch them in an e-Series called "The Robot Whisperers," where they show you how to make your robots a production man's best friend. Read Mike and Tony's Bios.
Season 2, Episode 2 The Tale of Two Companies
At the end of every good story is a lesson.This one is about efficient Arc Welding and how it can maximize your manufacturing agility to gain a competitive advantage. Snuggle up to listen to this tale as told by Mike and Tony.
WATCH THE FULL EPISODE
Season 2, Episode 1 The Renaissance of Technology
Mike and Tony are back to discuss their questions about the 3DEXPERIENCE platform. Everything from "what it is" to applying it to real-world problems and more along the way. Don't miss the start to this season!
WATCH THE FULL EPISODE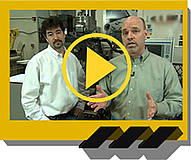 Season 1, Episode 4:
Advanced Robotology
Get ready for the final episode of season one as Mike and Tony revisit the past, talk about the present and give you a glimpse of the future in 3D robotic technology.
Click to watch a teaser of
episode 4!
WATCH THE FULL EPISODE
Season 1, Episode 3:
Robotology for Spot Welding
In this episode, you will see how companies use 3D simulation technology for Spot Welding applications, to help them reduce time, reduce cost and improve welding accuracy.
Click to watch teasers of
episodes 2 & 3!
WATCH THE FULL EPISODE
Season 1, Episode 2:
Robotology for Arc Welding
A fan favorite, Mike and Tony revisit this episode on how to apply 3D simulation technology for Arc Welding applications and share their secrets for healthy, happy robots.
WATCH THE FULL EPISODE
Season 1, Episode 1:
Robots in 3D
In episode one, the Robot Whisperers talk about the challenges companies have laying out production workcells in 2D, and demonstrate how 3D simulation can be the difference between success and failure.
WATCH THE FULL EPISODE
SEASON 2, EPISODE 2 NOW AVAILABLE!
WATCH THE FULL EPISODE
ROBOT WHISPERERS INTRODUCTION VIDEO
Meet the Robot Whisperers and learn how it all started. Watch the introductory video now. Click to watch it.
LEARN MORE ABOUT DASSAULT SYSTEMES
Quick Links: